OBDSTAR X300 DP PLUS PAD2 A/B/C Configuration Immobilizer+Special Function +Mileage Correction
$1,875.00
-
OBDSTAR X300 DP PLUS PAD2 A/B/C Configuration Immobilizer+Special Function +Mileage Correction Supports ECU Programming & Toyota Smart Key
One year free update online,370USD/ year after one year.
This device is a new Android-based vehicle trouble diagnostic device developed for internet applications. It inherits from OBDSTAR advanced diagnosing technology and it is characterized by covering wide range of vehicles, featuring powerful function, and providing precise result. Through vehicle diagnostic OBD connector and variant mobile intelligent terminals, it achieves vehicle trouble diagnosis for full car model and full system vehicle.
Meanwhile, taking advantage of mobile internet, this device integrates more application and service, such as Maintenance Database, remote assistant, One Key Upgrade etc.
OBDSTAR X300 DP Plus CONFIGURATION C Fucntion Coveage:
1.Immobilizer key programming
2.Pin code BSI Service
3.Mileage correction
4.OBD2/EOBD Basic engine Diagnosis
5.Oil Service reset
6.ABS Bleeding Service
7.Battery matching
8.ECU programming
9.EPB Service
10.Throttle programming
11.Airbag rest
12.TPMS
13.SAS Steering angle rest
14.DPF Service Reset
15.Injector coding
16.Supension matching
17.Gear learning
18.CVT learning
19.EEPROM
20.Key renewing
21.ECU cloning
22.Adapter P001 programmer
23.C001/C002  circuit board
24.W001/W002/W003 data cable
for Toyota smarkt key emulator
26.Ignition coil test
27.Remote key test
OBDSTAR X300 DP Plus X300 PAD2 A Package: 
Immobilizer+Special function(EEPROM+Key Renewing)Adapter(P001 programmer+C001circuit board+C002 circuit board+W001 cable+W002 data cable+W003 data cable+Toyota smart key Emulator)+others(Ignition coil+Remote tester
OBDSTAR X300 DP Plus X300 PAD B Package:  
Immobilizer+Special function(EEPROM+Key Renewing)+Mileage correction+Adapter(P001 programmer+C001 circuit board+C002  circuit board+W001 data cable+W002 data cable+W003 data cable+Toyota smarkt key Emulator)+others(Ignition coil+Remote tester)
OBDSTAR X300DP X300 DP Plus C Full Package
Immobilizer+Mileage correction+Diagnosis+Special function (Oil rest +ABS+Battery matching+ECU programming+EPB+Throttle programming+Airbag rest+TPMS+Steering angle rest+OBDII+DPF+Injector code+Supension matching+Gear learning+CVT learning+EEPROM+Key renewing+ECU cloning)Adapter(P001 programmer+C001 circuit board+C002 circuit board+W001 data cable+W002 data cable+W003 data cable+Toyota smarkt key Emulator)+others(Ignition coil+Remote tester)
CAR List:
Different product  configuration leads to the different testable vehicles.
If you have any question about the testable list, please do feel free to contact us.
http://en.obdstar.com/car.html
OBDSTAR X300 DP Plus Features: 
1. Clone ECU
Clone ECU means copy ECU, that is the OBDSTAR X300 DP Plus copies the data from the original car ECU, then write it into another same ECU hardware, so that it can achieve the same function as the original ECU.
When you want to change the new ECU or the second ECU, if you use X300 DP Plus to clone via OBD, you won't need to go to the 4s store to do the online programming or dismantle ECU to weld, read & write.
ECU clone Pros :
No need to go to 4S shop, convenient, fast and save money.
Simplify the operating steps, even the amateur can also operate.
No need to dismantle and weld the ECU to read & write, it is zero risk to clone ECU via OBD with the X300 DP Plus.
2. Switch activation function
Nowadays, many car models' secondary power supply of the dashboard or audio equipment needs to be activated to enter the boot status through the related module CAN.
However, when the car technician maintains the dashboard / audio equipment, the main unit is out of the CANBUS network so it maybe won't boot. X300 DP plus " switch activation function" can emulate the CANBUS communication to active the power supply of dashboard / Audio so that it can enter the boot status, then it will test and verify the dashboard and the Audio, also the technician can save money avoiding to purchase many the boot platform and cables of kinds of car models.
3. Adds the "Help" function including the testable car models, update notice, special features, help instruction, wiring diagram etc.
Testable car models: The user can read the testable car models and year.
Update notice: The user can read all of the update content.
Features: The user can read all of the special features and the functions that only X300 DP Plus supports.
Help instruction: Built-in the guide and instruction for each car model or function.
Wiring diagram: Built-in ECU wiring diagram, more intuitive and convenient.
Maintenance database:equipped with powerful database.
5. Video center:large amount of videos help users to operate device easily.
6. One Key Upgrade: built-in WIFI mode can realize application downloading and diagnostic function by one key upgrade.
7. System setting: set VCI formation, language, unit, data logging, user information etc.
8. Remote assistance: achieve remote assistance by this function.
9. Report center: record maintenance data logging and create reports during operation.
10. USB Inspection Camera (optional): Flexible and long pipe with HD camera, it can reach car interior pipeline or narrow space to have an overall inspection.
Difference between OBDSTAR X300 DP Plus A Package and B Package,C Package (Full Version):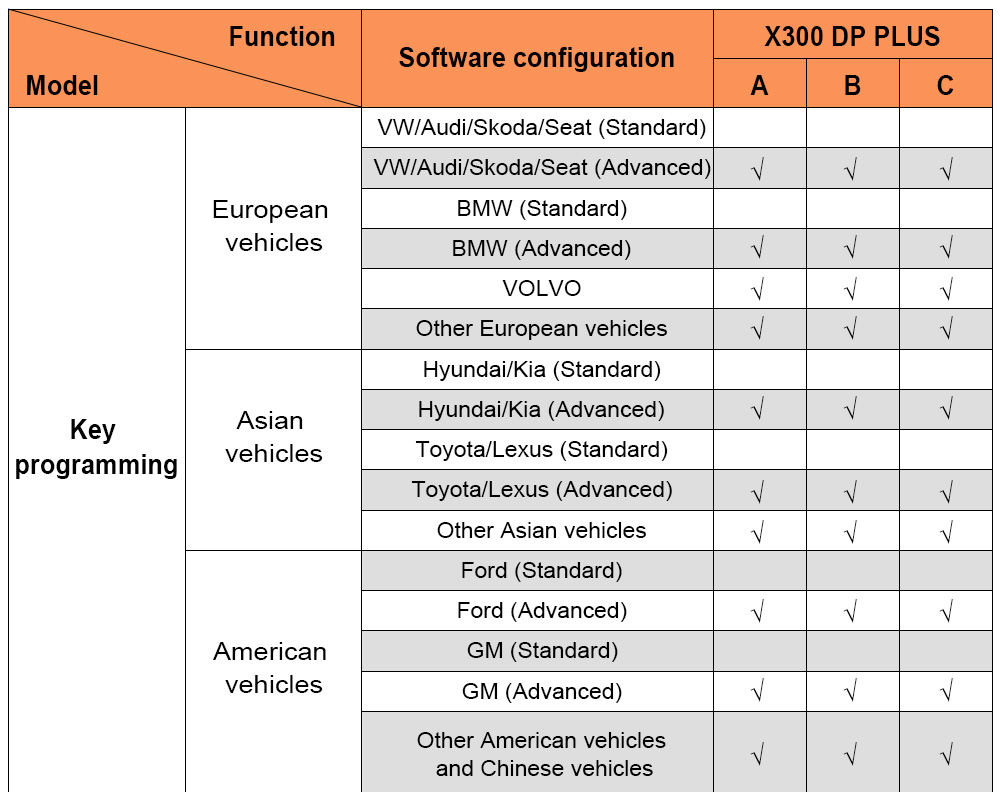 Hardware Advantages:
1. Built-in VCI box
2. 8-inch touchscreen
3. Charge directly via OBD interface
4. Practical and high-end gift box
5. Industrial design with silicone case
6. Back bracket design:prop on the steering wheel or stand on the table
7. With 4 Toyota simulation keys (the fifth is coming soon)
8. P001 programmer: EEPROM adapter + RFID adapter + Key Renew adapter
9. Add the clip of reading SOP 8PIN EEPROM
10. C001/C002 circuit board to read and write chip data with welding
11. IMMO induction coil to detect the key induction coil failure of the vehicle.
12. Add wiring harness of ECU reading by OBD (for ECU cloning and switch activation)
Software Advantages:
IMMO: 
1. EEPROM
2. Renew Key
3. Key programming
4. Remote programming
IMMO Support Car List (No all models can work, please ask seller before order) 
for Audi, for Baic, for Bentley, for Benz, for Besturn, for BMW, for Borgwarg, for Brilliance, for BYD, for Chery, for Chrysler, for Fiat, for Ford, for Lincoln, for Foton, for Geely, for GM, for Honda, for Hyundai, for Isuzu, for Jaguar, for Kia, for Lamborghini, for Land Rover, for Maserati, for Mazda, for Mitsubishi, for Nissan, for Opel, for Citroen, for Porsche, for Renault, for Skoda, for Smart, for Ssangyong, for Subaru, for Suzuki, for Toyota, for Volvo, for VW
Cluster Calibrate: wild vehicle coverage
Diagnosis: realize all vehicle systems diagnosis
Special Functions
TPS/ABS/EPB/DPF/TPMS/SRS Reset/Fuel Injector/Gear Learning/Battery Matching/ECU Programming/Throttle Matching/Oil/service reset/Steering Angle Reset/Remote Manual Setting/Electronic Steering Reset/CVT Learning/value Reset
ECU Clone
1. ECU Clone, means ECU duplication.
The device copies all the data from the original vehicle ECU, and then writes all
data copied into ECU with the same hardware to realize the same ECU function with the
original vehicle.
2. Clone directly when replacing a new or a used ECU!
Without online matching in 4S store or removal of ECU bonding wire for reading and writing! Directly write without dismantling OBD!
3. Three features for ECU Clone:  
A. Free of 4S online: break monopoly from 4S, benefiting automobile maintenance industry
B. Simplified operation procedures: realize foolproof operation
C. Non-dismantling with zero risks: read and write data without dismantling ECU
OBDSTAR X300 DP Plus Technical Parameter:
 ● Operation system: Android 5.1.1
 ● CPU: Exynos4418  Dual Core ARM Cortex A9 1.4GHz
 ● Battery: 3700mA, rechargeable polymer lithium battery
 ● Extension memory card: 32G Micro SD (TF) card supported
 ● Memory capacity:1GB
 ● Storage capacity: 32GB
 ● LCD: 8.0 inch
 ● LCD resolution: 1280*800
 ● Touch screen: Capacitive touch screen
 ●  Camera: 5 mega rear view camera
 ● Wi-Fi: supported
 ● Working temperature: -10℃  ~  55℃(14℉  ~  131℉ )
 ● Storage temperature: -20℃  ~  70℃(-4℉  ~ 158℉ )
 ● Weight: about 1.0 Kg
 ● Dimension: 254mm*174*mm*35mm

OBDSTAR X300 DP Plus Software Update Instruction:
Tap "One Key Upgrade"  to enter one key upgrade page, as following picture shown:

Tap "One Key Upgrade" to start downloading, enter main interface after finishing downloading. (Notes: Ensure internet connection is normal when updating. Besides, because of many software, it may take several minutes, please wait patiently) If need to cancel a software, just tap corresponding Check Box as following picture shown:
OBDSTAR X300 DP Plus X300 PAD2 Package List:
1.Key Master DP Plus Unit
2.Main Wire
3.12V2A DC Charger
4.KIA-20
5.OBD II-16 Connector
6.HONDA-3
7.HYUNDAI/KIA-10
8.IMMO Induction Coil
9.Muti-functional Jumper
10.P001 Programmer Unit
11.C001/C002 Circuit Board
12.W001
13.W002
14.W003
15.RT100
16.94/D4 TOYOTA Simulation Smart Key
17.Configuration List/Certificate/Quick Start Guide Fold
OBDSTAR X300 DP Plus FAQs:
Q1: There is a lot of upgrdae now but doesn't appear in my X300DP this new upgrade, is this upgrade available only for DP Plus?
A1: Is your device expired 1 year free update?
Q2: And how much the price if the subscription was already expired?
A2: One Year Free Update Online, Update Cost is 499USD/year after first year.
Q3: If we can use the adapter rfid, instead of the adapter p001 with obdstar x300dp
A3: P001 adapter= EEPROM adapter + RFID adapter + Key Renew adapter
To learn about the latest product upgrades, please click:
http://en.obdstar.com/ssgg.html
More Update History: 
http://www.obdstar.com/NewsStd_UpdateInfo.html
Update Information:
OBDSTAR X300 DP Plus Update Apr 20th,2021
CHRYSLER IMMO [V33.09] UPGRADE
1. Increased AFRICA: GRAND VOYAGER 2009-2014 FOBIK, REMOTE
2. Increased AUSTRALIA: 300/300C 2019- PROXIMITY
3. Increased MIDDLE EAST: PACIFICA 2018 PROXIMITY
4. Increased USA-CANADA: VOYAGER 2020 PROXIMITY
CHRYSLER IMMO [V33.08] UPGRADE 
Increased JEEP WRANGLER 2020 SMART KEY
Increased USA GLADIATOR 2020 SMART KEY
DODGE IMMO [V33.09]
1. Increased ASIA: CHARGER 2019- PROXIMITY; DURANGO 2003- 2006 BLADE; DURANGO 2015 PROXIMITY; RAM 2002- 2005 BLADE/ REMOTE
2. Increased AUSTRALIA: RAM 2009-2012 FOBIK
3. Increased SOUTH AMERICA: NEON 2016-2018 BLADE
JEEP IMMO [V33.09]
1. Increased AFRICA: CHEROKEE 2008-2012 FOBIK ; COMPASS 2007-2014 BLADE; LAREDO 2008-2010 FOBIK; RUBICON 2007-2009 BLADE
2. Increased ASIA: COMPASS 2007-2016 BLADE; PATRIOT 2007-2016 BLADE; WRANGLER 2007-2018 BLADE; WRANGLER 2018-2019 PROXIMITY; WRANGLER 2020 PROXIMITY
3. Increased AUSTRALIA: CHEROKEE 2014-2018 FOBIK
4. Increased SOUTH AMERICA: COMPASS 2019-2020 PROXIMITY
5. Increased USA-CANADA: CHEROKEE 2008-2012 FOBIK
FORD IMMO [V34. 08] UPGRADE 
1.Increased ECOSPORT SOUTH AMERICA BLADE 2020
2.Increased ECOSPORT USA PROXIMITY 2019-2020
3.Increased ESCAPE USA BLADE 2019-2020
4.Increased ESCAPE USA PROXIMITY 2020
5.Increased EXPEDITION 2020 Smart Key
6.Increased EXPLORER USA 2020 BLADE
7.Increased EXPLORER 2020 Smart Key
8.Increased F150 2019-2020 Smart Key
9.Increased F250-750 SUPER DUTY BLADE 2020
10.Increased F250-750 SUPER DUTY PROXIMITY 2020
11.Increased FUSION USA PROXIMITY 2019-2020
12.Increased KUGA EUROPE 2019-2020 Smart Key
13.Increased MUSTANG 2020 BLADE
14.Increased RANGER EUROPE BLADE 2019-2020
15.Increased TRANSIT 2020 BLADE
16.Increased TRANSIT CUSTOM EUROPE BLADE 2020
FORD IMMO [V34.10] UPGRADE
(Bypass Pincode)
1.Increased PATS1/2/3/4/5/6 BLADE
2.Increased ECOSPORT USA 2018-2019 BLADE
3.Increased FIGO AFRICA 2018- BLADE
4.Increased KA AFRICA 2002-2008 BLADE
5.Increased RANGER AFRICA 2016-2019 BLADE
6.Increased RANGER AFRICA 2018-2019 PROXIMITY
7.Increased ECOSPORT AUSTRALIA 2012-2017 BLADE
8.Increased ECOSPORT AUSTRALIA 2017-2019 PROXIMITY
9.Increased ECOSPORT AUSTRALIA 2018-2019 BLADE
10.Increased ENDURA 2018- PROXIMITY
11.Increased ESCAPE AUSTRALIA 2018-2019 PROXIMITY
12.Increased RANGER AUSTRALIA 2018-2019 BLADE
13.Increased RANGER AUSTRALIA 2018-2019 PROXIMITY
14.Increased TRANSIT AUSTRALIA 2017-2019 BLADE
15.Increased TOURNEO CONNECT 2018-2019 PROXIMITY
16.Increased TOURNEO CUSTOM EUROPE 2016-BLADE
17.Increased TRANSIT CONNECT EUROPE 2018-2019 PROXIMITY
18.Increased RANGER S.AMERICA 2019 BLADE
19.Increased TRANSIT CONNECT USA-CANADA 2018-2019 BLADE
20.Increased TRANSIT CONNECT USA-CANADA 2018-2019 PROXIMITY
MAZDA IMMO[30.70] UPGRADE (Bypass Pincode)
Increased Mazda 2 / Type 1 / Blade / 2002-2007
OBDSTAR X300 DP Plus Update Dec 09th,2019
Toyota [V32.17] Upgrade
Increased YARIS IA 2015- Smart Key Programming
Increased YARIS IA 2017  Smart Key Programming
Increased YARIS IA 2018- Smart Key Programming
Ford [V33.06] Upgrade
Increased Ecosport 2018- blade key and smart key (India Area)
Hyundai [V30.74] Upgrade
Increased Venue 2019- IMMO system and remote system
Suzuki [V30.54] Upgrade
Increased Brezza 2018- smart key system
OBDSTAR X300 DP Plus Update Nov 21th,2019
Ford [V33.03] Upgrade No Need Pincode
Increased Kuga 2016- smart key programming via OBD
Increased Focus 2018- smart key programming via OBD
Increased Focus 2015-2018 smart key programming via OBD
OBDSTAR X300 DP Plus Update Oct 29th,2019
BMW [V30.32] Upgrade
Increased CAS1/CAS2 key programming
Increased CAS3/CAS3+ key programming
Changhe [V30.29] Upgrade 
Increased Q7 BCM
Increased Q7 smart key system
OBDSTAR X300 DP Plus Update Oct 15th,2019
Mazda [V30.62]
Increased Axela 2018- smart key programming and all key lost (No Need Pincode)
Increased Atenza 2018- smart key programming and all key lost (No Need Pincode)
Increased CX-3 2018- smart key programming and all key lost (No Need Pincode)
Increased CX-4 2018- smart key programming and all key lost (No Need Pincode)
Increased CX-5 2018- smart key programming and all key lost (No Need Pincode)
Increased CX-7 2018- smart key programming and all key lost (No Need Pincode)
Increased CX-8 2018- smart key programming and all key lost (No Need Pincode)
Increased CX-9 2018- smart key programming and all key lost (No Need Pincode)
Increased MX-5 2018- smart key programming and all key lost (No Need Pincode)
Increased M2 2018- smart key programming and all key lost (No Need Pincode)
Increased Mazda 2 2018- smart key programming and all key lost (No Need Pincode)
Peugeot/Citroen [V31.13]
Increased BSI K0X type 2 cluster calibration
OBDSTAR X300 DP Plus Update Sept 30th,2019
IMMO
Opel
Increased AGILA IMMO system, remote system
Increased ANTARA type 2,3,4 IMMO system
Increased ANTARA type 1,2 remote system
Increased ASTRA G remote system
Increased ASTRA H IMMO system
Increased ASTRA K smart key system
Increased CORSA-C IMMO system, remote system
Increased CORSA-E smart key system
Increased MERIVA-A remote system
Increased MOKKA smart key system
Increased OMEGA B 1999- IMMO system, remote system
Increased TIGRA B 2000- IMMO system, remote system
Increased VECTRA B IMMO system, remote system
Increased VECTRA C IMMO system
Increased ZAFIRA-A remote system
Optimized ASTRA G IMMO system
Optimized ASTRA J IMMO system
Optimized ASTRA K IMMO system
Optimized COMBO IMMO system, remote system
Optimized CORSA-D IMMO system
Optimized CORSA-E IMMO system
Optimized INSIGNIA IMMO system, remote system
Optimized MERIVA-A、MERIVA-B IMMO system
Optimized MOKKA IMMO system
Optimized ZAFIRA-A IMMO system
Optimized Vectra C key programming
Optimized INSIGNIA communication interface
Optimized CORSA-D key programming and key erasefunction
Optimized IMMO function menu
Updated car logo
Chery
Optimized Tiggo 8 smart key system
Increased 5X(T19) smart key system
Increased the Italian language
Nissan/Infiniti
Increased the Italian language
Mazda
Increased CX-4 2018- smart key programming (type4)
Increased Mazda 2 2018- smart key programming (type4)
Increased New CX-7 2017-2018 smart key programming
Increased New CX-7 2018- smart key programming
Increased New CX-9 2017-2018 smart key programming
Increased New CX-9 2018- smart key programming
Increased data index ID and the Italian language
Optimized Mazda 3 type 2 key adding function
Haima
Incrased the Italian language
Optimized S5 Youth Edition Xiamen TungThih BCM
SMART
Optimized BR450 2004- key programming
Optimized SMART 450 -2003 and 2004- algorithm
Changan
Increased data index
Increased Italian language
Increased Ruixing S50T smart key system
Optimized CS35PLUS Delphi BCM BUG4869
Suzuki
Increased Italian language
Optimized the 'Help' data index
Optimized CELERIO(ID47) key programming
Optimized 2016 Suzuki vitara key programming
Optimized CELERIO(ID46) key programming and key numbers reading procedure
Optimized JIMNY 2018- type 2 smart key system key numbers reading procedure
Peugeot/Citroen/DS
Increased H0X AKL Pincode reading verification
Bestune
Optimized X40 smart key system
Increased X40 BCM and smart key system programming
Luxgen   
Increased data index
Increased the Italian language
Increased and optimized Luxgen 3 IMMO system type 2
Senia
Optimized R9 smart key system
Increased R7 smart key system and IMMO system programming
Geely/SMA/Englon
Increased Xingyue smart key system
Increased Jihe A smart key system
Increased Boyue PRO smart key system
Increased GL(14T 2nd generation) smart key system
Increased GS(15TD/14T 2nd generation) smart key system
Increased Jiaji BCM
Increased New EV450 BCM
Increased Boyue smart key system
Increased RS smart key system
Increased New Vision BCM
Increased Boyue 2020 smart key system
Increased Vision S1 IMMO system and DIAS smart key system
Increased Vision X1 BCM
Increased Vision X3 BCM, smart key system and NAEN smart key system
Increased Vision X6 BCM and smart key system
Increased EC7 2014- Pincode reading
Increased RS 2014- Pincode reading
Increased SC6 2014- Pincode reading
Increased New Vision smart key system
Optimized Vision X3 BCM
Roewe/MG
Increased the Italian language
Optimized MG GS -2016 smart key system
Optimized -2012 Roewe 550 IMMO system key adding procrdure
Optimized Roewe RX5 (without smart) key programming procedure
Optimized Roewe RX5 IMMO system (with smart) key programming procedure
Optimized Roewe I6 IMMO system (with smart) type 1 and type 2
Foton
Increased the Italian language
Optimized Gratour IX remote system
Increased Auman heavy truck IMMO system
Increased Auman heavy truck remote system
Optimized Auman remote programming
Increased data index ID
Ssangyong
Increased the Italian language
Optimized Rexton petrol and diesel key programming procedure
Optimized remote programming type 1 programming procedure
Optimized remote programming type 1
Lufeng
Increased the Italian Language
Optimized Xiaoyao and Guowei smart key system
Optimized X8 Delphi IMMO system key programming
BAIC
Increased the Italian language
Optimized Hyosow S6 smart key system programming system
Optimized Senova D50 IMMO system programming procedure
Optimized Weiwang M50F and New Energy EU5 smart key system programming procedure
Hanten
Optimized X7 smart key system
Increased the Italian language
Zotye
Increased the Italian language
Optimized T600/T700 smart key system
Fiat
Optimized 500L cluster calibration
GM   
Optimized Excelle 2013- remote system
Optimized Pincode reading from BCM
Optimized Buick Enclave 2008-2013 remote system
Maxus
Increased the Italian
Optimized G10 smart key system key adding
Renault/Dacia
Optimized 2008- KANGOO
Revised VEL SATIS car name
JAC
Increased the Italian language
Optimized Refine S2 remote system
Great Wall
Optimized Florid and M4 SIIC Transportation IMMO system
Cluster Calibration
Infiniti
Increased QX60 2014- Cluster Calibration
Increased JX35 2013- Cluster Calibration
SSANG YONG
Increased ACTYON D70F342X cluster calibration
Increased ACTYON D70F352X cluster calibration
Increased ACTYON 2011- cluster calibration
Increased KORANDO 2011- cluster calibration
Increased REXTON 2018 VDO R7F701412 cluster calibration
Increased TIVOLI D70F353X cluster calibration
Increased data index ID
Bently
Updated the car logo
Increased Italian language
GM
Increased vehicle coverage list
Optimized Cadillac STS Debug
Kia
Increased CEED 2011- NEC cluster calibration
Increased CEED 2014- D700F35XX cluster calibration
Increased CEED 2015- NEC+24C16 cluster calibration
Increased CEED 2015 D70F3XXX cluster calibration
Increased CEED D70F3421 cluster calibration
Increased MAGNETIS 2011- NEC cluster calibration
Increased MAGNETIS 2014- D700F35XX cluster calibration
Increased MAGNETIS 2015- NEC+24C16 cluster calibration
Increased MAGENTIS D70F3421 cluster calibration
Increased MAGENTIS D70F353X cluster calibration
Increased OPTIMA 2011- NEC cluster calibration
Increased OPTIMA 2014- D700F35XX cluster calibration
Increased OPTIMA 2015- NEC+24C16 cluster calibration
Increased OPTIMA D70F3421 cluster calibration
Increased OPTIMA D70F352X cluster calibration
Increased RIO 2011- NEC cluster calibration
Increased RIO 2014- D700F35XX cluster calibration
Increased RIO D70F3421 ACCENT cluster calibration
Increased SORENTO IC VDO D70F3421 cluster calibration
Increased SORENTO IC VDO D70F3423 cluster calibration
Increased SORENTO IC VDO D70F353X cluster calibration
Increased SORENTO 2011- NEC cluster calibration
Increased SORENTO 2014- D700F35XX cluster calibration
Increased SORENTO 2015- NEC+24C16 cluster calibration
Increased SOUL 2011- NEC cluster calibration
Increased SOUL 2014- D700F35XX cluster calibration
Increased SPORTAGE 2011- NEC cluster calibration
Increased SPORTAGE 2014- D700F35XX cluster calibration
Increased SPORTAGE 2015- NEC+24C16 cluster calibration
Increased Stinger 2017 cluster calibration
Increased STONIC 2017- cluster calibration
Hyundai
Increased ACCENT cluster calibration
Increased AVANTE 2011- cluster calibration
Increased AZERA D70F35XXcluster calibration
Increased AZERA R7F70140X cluster calibration
Increased CRETA cluster calibration
Increased ELANTRA 2011- cluster calibration
Increased GENESIS D70F3421 cluster calibration
Increased GENESIS D70F3536 cluster calibration
Increased HB20 D70F3421 cluster calibration
Increased I20 D70F3536 cluster calibration
Increased I25 cluster calibration
Increased IX20 D70F3421 cluster calibration
Increased IX20 D70F3536 cluster calibration
Increased KONA S&T MOTIV cluster calibration
Increased Kona 2018- cluster calibration
Increased SOLARIS D70F342X cluster calibration
Increased SOLARIS D70F353X cluster calibratio
Increased SONATA D70F3526 cluster calibration
Increased TUCSON VDO D70F3536 cluster calibration
Increased VELOSTER D70F3421 cluster calibration
Increased VELOSTER D70F3525 cluster calibration
Increased VERACRUZ D70F3421 cluster calibration
Increased vehicle coverage list
Optimized Hyundai IX35 2018cluster calibration
Optimized the menu
Mazda
Optimized teh menu
Lancia
Increased DELTA 2008- cluster calibration
Increased MUSA 2008- cluster calibration
Increased LANCIA Y 93C66 VDC cluster calibration
Increased THEMA Cluster Calibration
Fiat
Increased Ducato 2006- cluster calibration
Optimized FREEMONT 2012 cluster calibration
Ford
Optimized FOUCS 2019 cluster calibration
Increased S-MAX monochrome screen dashboard 2011-2013 cluster calibration
Increased New Mondeo double color dashboard 2015- cluster calibration
Increased Everest small color dashboard (SPC5606 2016-) cluster calibration
Mercedes-Benz
Optimized part of B200 models cluster calibration
Ferrari
Optimized 458 SPECIAL 2014- cluster calibration
LandRover
Increased Range Rover 2004- cluster calibration
Increased Discovery Sport 2018- cluster calibration
OBDSTAR X300 DP Plus Update Sept 6th,2019
Mazda [V30.60] Upgrade 
Increased New CX-7 2018- smart key programming
Increased New CX-9 2018- smart key programming
Increased New CX-7 2017-2018 smart key programming
Increased New CX-9 2017-2018 smart key programming
Increased CX-4 2018- smart key programming (type 4)
Increased Mazda 2 2018- smart key programming (type 4)
SSANG YONG [V30.88] Upgrade
Increased ACTYON 2011- cluster calibration
Increased KORANDO 2011- cluster calibration
Ford [V30.76] Upgrade 
Increased S-MAX monochrome screen dashboard 2011-2013 cluster calibration
Hyundai [V30.86] Upgrade
Increased Kona 2018- cluster calibration
KIA [V30.86] Upgrade
Increased ACCENT 2011- NEC cluster calibration
Increased CEED 2011- NEC cluster calibration
Increased CEED 2014- D700F35XX cluster calibration
Increased CEED 2015- NEC+24C16 cluster calibration
Increased MAGNETIS 2011- NEC cluster calibration
Increased MAGNETIS 2014- D700F35XX cluster calibration
Increased MAGNETIS 2015- NEC+24C16 cluster calibration
Increased OPTIMA 2011- NEC cluster calibration
Increased OPTIMA 2014- D700F35XX cluster calibration
Increased OPTIMA 2015- NEC+24C16 cluster calibration
Increased RIO 2011- NEC cluster calibration
Increased RIO 2014- D700F35XX cluster calibration
Increased SORENTO 2011- NEC cluster calibration
Increased SORENTO 2014- D700F35XX cluster calibration
Increased SORENTO 2015- NEC+24C16 cluster calibration
Increased SOUL 2011- NEC cluster calibration
Increased SOUL 2014- D700F35XX cluster calibration
Increased SPORTAGE 2011- NEC cluster calibration
Increased SPORTAGE 2014- D700F35XX cluster calibration
Increased SPORTAGE 2015- NEC+24C16 cluster calibration
Increased Stinger 2017 cluster calibration
Increased STONIC 2017- cluster calibration
OBDSTAR X300 DP Plus Update Sept 4th,2019
Opel [V30.37] Upgrade
Increased AGILA IMMO system and remote system
Increased ANTARA type 2, type 3 and type 4 IMMO system
Increased ANTARA type 1 and type 2 remote system
Increased ASTRA G remote system
Increased ASTRA H IMMO system
Increased ASTRA K smart key system
Increased CORSA-C IMMO system and remote system
Increased CORSA-E smart key system
Increased MERIVA-A remote system
Increased MOKKA smart key system
Increased OMEGA B 1999- IMMO system and remote system
Increased TIGRA B 2000- IMMO system and remote system
Increased VECTRA B IMMO system and remote system
Increased VECTRA C IMMO system
Increased ZAFIRA-A remote system
OBDSTAR X300 DP Plus Update Aug 28th,2019
Fiat [V31.08] Upgrade
Increased Talento 2016- Block ABS cluster calibration
Increased Talento 2017- Block ABS cluster calibration
Increased Talento 2016- Unlock DASH cluster calibration
Increased Talento 2017- Unlock DASH cluster calibration
Ferrari [V31.08] Upgrade
Increased 488 GTB 2014- cluster calibration
Increased LA FERRARI 2014- cluster calibration
Increased 458 SPECIAL 2014- cluster calibration
Increased CALIFORNIA T 2014- cluster calibration
Ford [V30.74] Upgrade 
Increased New Mondeo 2015- (color double-screen) cluster calibration
SMART [V31.08] Upgrade
Increased BR454 key programming
Increased BR450 2004- key programming
OBDSTAR X300 DP Plus Update Aug 24th,2019
Chevrolet [V30.95] Cluster Calibration Upgrade
ALPHEON 210
AVEO 2011
COBALT 2012
LACETTI 2010
ONIX 2012
ORLANDO 2012
PRISMA 2012
S-102 012
SONIC 2012
SPIN 2012
VECTRA
VOLT 2012
OBDSTAR X300 DP Plus Update Aug 16th,2019
Suzuki [V30.47] Upgrade
Increased BALENO 2014- IMMO system/smart key system (No Need Pincode)
Increased BREZZA 2016- IMMO system (No Need Pincode)
Increased CELERIO 2014- (India) IMMO system (No Need Pincode)
Increased CELERIO(LF) 2014-2017 IMMO system
Increased CELERIO(ID46) 2015-2018 IMMO system (No Need Pincode)
Increased CELERIO(ID47) 2015-2018 IMMO system (No Need Pincode)
Increased CIAZ 2014- IMMO system (No Need Pincode)
Increased ERTIGA 2013- IMMO system (No Need Pincode)
Increased JIMNY 2018- Type 1/2/3/4 IMMO system (No Need Pincode)
Increased KIZASHI 2010- IMMO system (No Need Pincode)
Increased KIZASHI(FR) 2010-2016 IMMO system (No Need Pincode)
Increased S-CROSS 2014- IMMO system (No Need Pincode)
Increased S-CROSS(JY) 2013-2016 IMMO system (No Need Pincode)
Increased SWIFT(AZ) 2017 IMMO system (No Need Pincode)
Increased SWIFT 2013- IMMO system (No Need Pincode)
Increased SWIFT DZIRE 2013- IMMO system (No Need Pincode)
Increased SWIFT 2014- IMMO system (No Need Pincode)
Increased SWIFT(FZ) 2011-2017 IMMO system (No Need Pincode)
Increased SWIFT DZIRE 2013- IMMO system (No Need Pincode)
Increased SWIFT 2009-2016 IMMO system (No Need Pincode)
Increased VITARA(LY) IMMO system (No Need Pincode)
Increased VITARA SZT 2015- IMMO system (No Need Pincode)
Increased VITARA 2016- IMMO system (No Need Pincode)(South America Area)
Increased VITARA 2015- smart key system (No Need Pincode) (Europe Area)
OBDSTAR X300 DP Plus Update Aug 13th,2019
BYD [V30.37] IMMO Upgrade
Increased Surui/ Sirui/ New F3/ Tang/ Qin/ Qin EV/ Yuan/ E5/ E6/ E6A/ E6B/ E6Y/ F0/ F3/ F6/ F3R/ G3/ G3R/ G5/ G6/ L3/ M6/ S6/ S7/ K9A/ K9B/ VA add and erase the original key function
Trumpchi [V30.26] Upgrade
Increased GM6 IMMO system
Increased GS5 2019- IMMO system
Increased GM6 smart key system (No Need Pincode)
Increased GS5 2019- smart key system (No Need Pincode)
Dacia [V30.70] IMMO Upgrade
Increased Sandero 2013 New Type
Geely [V30.86] Upgrade
Increased Binyue 2018 cluster calibration
GM [V30.94] Upgrade
Increased Buick Velite 5 cluster calibration
Increased Cadillac X60 2019 cluster calibration
Increased Chevrolet CAMARO 2019 (24C32) cluster calibration
Hyundai [V30.85] Upgrade
Increased IX35 2018- cluster calibration
Chrysler [V31.10] IMMO Upgrade
OBDSTAR X300 DP Plus Update Aug 2nd, 2019
Ford [V30.72] Cluster Calibration Upgrade
Opel [V30.77] Cluster Calibration Upgrade
Great Wall [V31.60] Update
Increase C50 2013/2014-2015 smart key system
Hyundai [V30.84] Upgrade
Increase Solaris D70F3536 cluster calibration
Vauxhall [V30.77] Upgrade
Increase VIVA- Cluster Calibration
Increase INSIGNIA- Cluster Calibration
Increase ASTRA IV- Cluster Calibration
Increase ZAFIRA C- Cluster Calibration
OBDSTAR X300 DP Plus Update July 26th, 2019
Nissaan [V30.37] Upgrade
Increased Kicks 2016- Block ABS Cluster Calibration
Increased Kicks 2017- Block ABS Cluster Calibration
Increased Kicks 2016- Unlock DASH Cluster Calibration
Increased Kicks 2017- Unlock DASH Cluster Calibration