Toyota ITS + Nissan Consult 3 Plus + VOLVO VIDA DICE OTC 3 in 1 Car Diagnostic Tool Plus Lenovo X220 Laptop Ready to Use
$900.00
-
Toyota ITS + Nissan Consult 3 Plus + VOLVO VIDA DICE OTC 3 in 1 Car Diagnostic Tool Plus Lenovo X220 Laptop Ready to Use
We will install the software before ship, so you can get it work directly after you receive it.
OTC Plus 3 in 1 Car Diagnostic Tool software:
Support Toyota Nissan Volvo 3 in 1 for diagnosis and programming.
Latest Software Version:
Toyota ITS: V16.00.017
VolvoVIDA DICE: 2014D
Nissan Consult iii Plus: V71.40.00

1.Toyota ITS Software Version: V16.00.120
Support languages: English, Germany, French, Italian, Chinese
Vehicle Coverage: Toyota and Lexus
OTC GTS (IT3) Features and function:
1)GTS is based-on-Windows software and specially designed for Toyota and Lexus.
2)VIM is connected to the vehicle when the technician use GTS to diagnose.
3) "Legacy" module can work with all DLC3 (OBDII) port from 1993
4)Own all the function of"ITII" except Oscilloscope and voltmeters function.
5)User-friendly graphical User Interface displays the trouble codes on the PC monitor, it is easy to understand.
6)Its memory is larger than that of"ITII".
New generation Toyota Global TechStream (GTS) for toyota cars are available now, its product of OTC company, PC based, support cars till 2018, including diagnosis and programming, much better than Toyota IT2 tester.
Unlike the current diagnostic tool, Toyota Intelligent Tester II, Toyota Global TechStream (GTS) is a PC-based diagnostic tool. It consists of two components: GTS software and Vehicle Interface Module (VIM). V16 Global TechStream GTS software is at the core of the diagnostic tool, and VIM is the communication gateway between GTS software and vehicles ECUs. These components enable technicians to diagnose and reprogram the vehicles.
2.Consult -3 Plus for Nissan Function:
Consult-3 Plus for Nissan can support all the models of the Nissan and Infiniti from 1996 up till now, with all Consult II & III functions .
1)Consult-3 Plus for Nissan (Nissan Consult 3+) work for all nissan car , infiniti car and nissan gtr car to 2018.
2)Consult-3 Plus for Nissan work with obd-16 connector for the new kind of car, work with 14 pin connector for the old kind of car.
3)Consult-3 Plus for Nissan support nissan car electrolic system diagnostic function.
4)Consult-3 Plus for Nissansupport nissan electromobiles such as Leaf.
Conslu-3 for Nissan Car List:
1)Scantool Diagnostics:for all Nissan,Infiniti,GTR
2)Nissan GTR: for Nissan GTR Diagbostics
3)Electromobiles car:for Nissan Electromobiles car Diagbostics
3.VOLVO VIDA DICE V2014D
DICE-diagnostic communication device is a tool used with VIDA to communicate with vehicles. Communication makes it possible to diagnose and troubleshoot vehicles and download software.
Software Version: V2014D 
2014D Software Supported Cars: For Volvo vehicle from 1998-2014
VOLVO VIDA DICE Functions:
1)Administration – General information, design and function.
2)Standard components, service materials and consumables. General information (among other things, control modules, SRS, general safety)
3)Service and maintenance
4)Engine with mounting and equipment
5)Electrical system
6)Power transmission
7)Brakes
8)Suspension and steering
9)Springs, shock absorbers and wheels
10)Body and interior – among other things, diagnostics, design and function, repair and spare part information
11)Other – special vehicles, e.g., ambulances, police cars. Components that deviate from standard.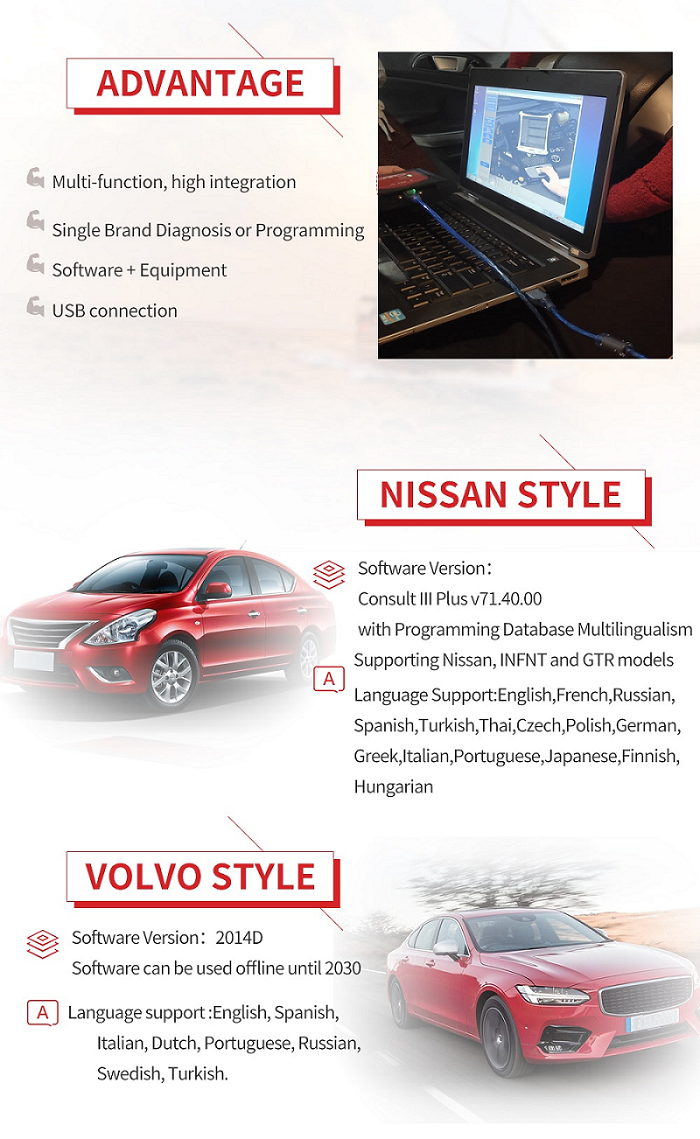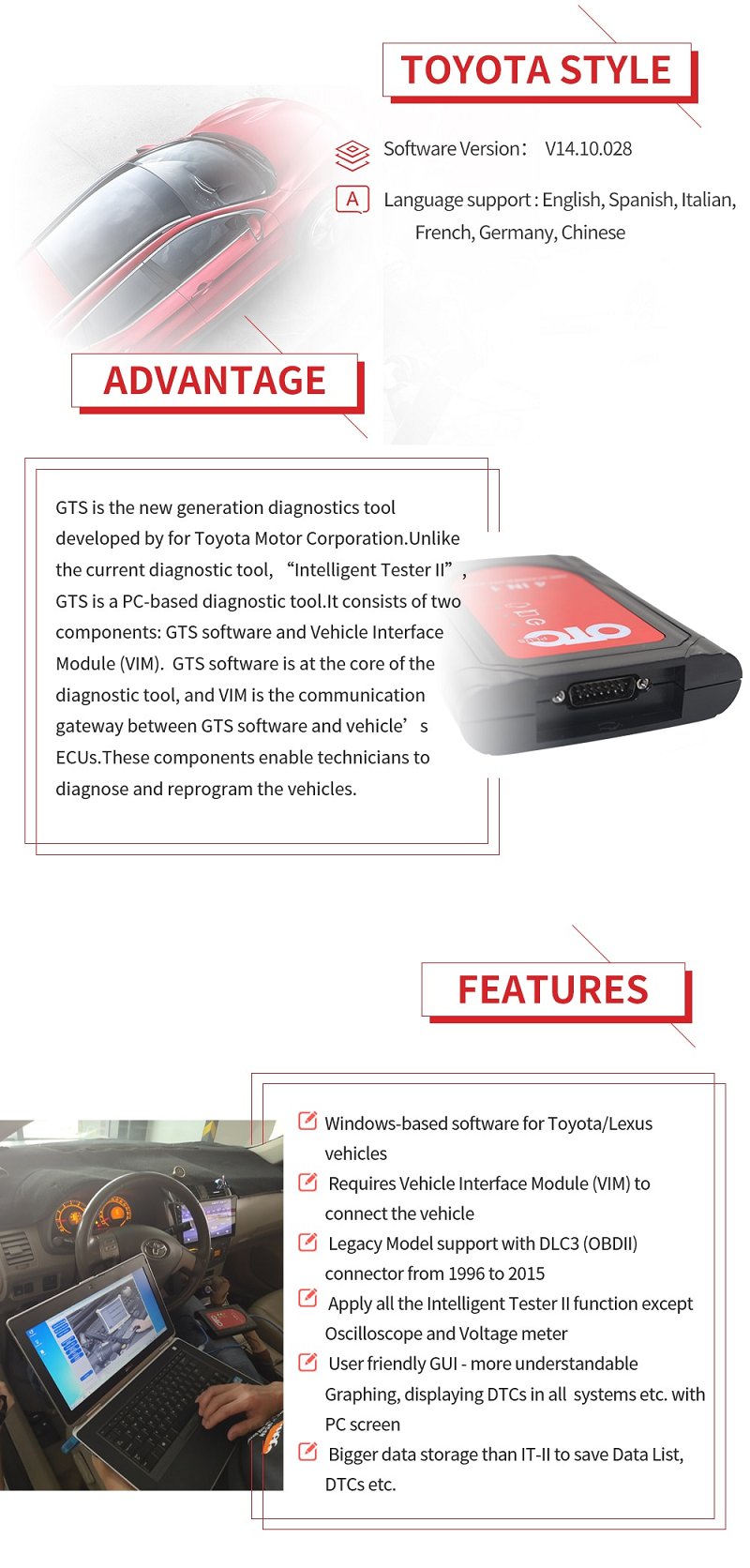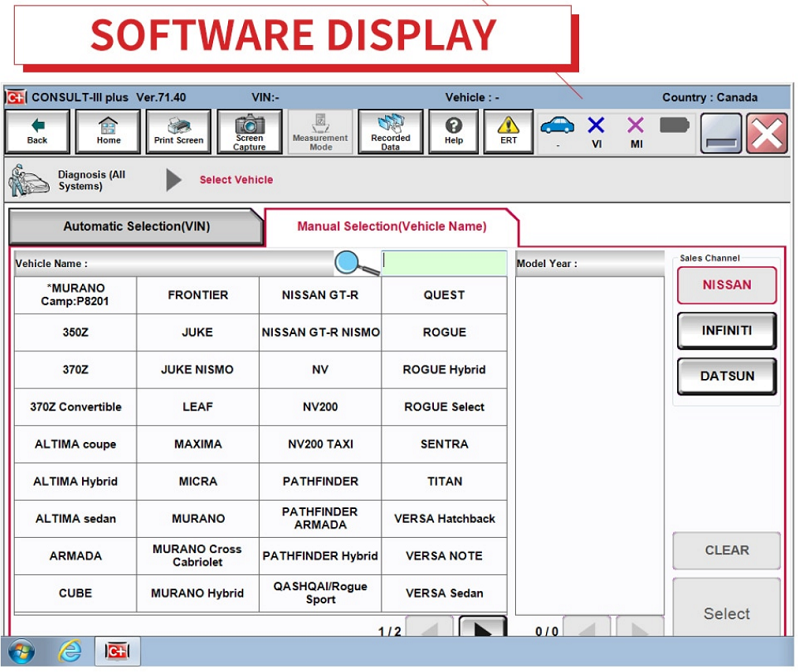 Second Hand Laptop Lenovo X220 Laptop with V2021.04 software:
Brand: Lenovo
Condition: Used
Type:Laptop/Notebook
Screen Size:12.5
Processor Type:Intel (R) Core(TM) I5-2520M CPU
Processor Speed:2.50 GHz
Memory: 4GB
An item that has been used previously. The item may have some signs of cosmetic wear, but is fully operational and functions as intended.
Primary Drive: DVD+/-RW Processor Speed: 2.53GHz
Processor Configuration: Dual Core
Package includes:
1pc x Second Hand Laptop Lenovo X220 laptop with software
1pc x Main Unit
1pc x OBD2 Main Cable
1pc x VIM Cable